Changes Are Coming...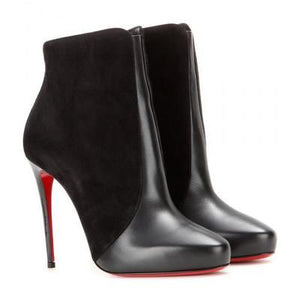 Hello to all our fabulous customers! 
Firstly we want to take a minute or two to thank all of our customers, old and new for their constant interest and loyalty to Love Luxe
Here at our office, we have been incredibly busy, working to bring you the best. We have had an incredible year with publicity and lots of success
in sourcing some amazing stock for you!!
We will soon be unveiling a new, beautiful, glossy, sleek upgraded website for your delight and delectation... and as always, the bargains keep coming to you at INCREDIBLE prices.
Lots of emails come in asking where we source our stock and we are totally transparent in this, it is all down to my lovely SELLING customers , who are fortunate enough to own shoe collections that are beyond your wildest dreams, i am THEIR loyal customer...and so it goes on...
So, that said, we are in the mood to celebrate the changing of the season by taking a little time to profile our Gaetanina Black Paneled Bootie on sale to you right now (size 39.5)
I can tell you that this is sold out in lots of stores at the moment, we have ours on at the beautiful price of £425.00 
 What a perfect way to sashay sexily into the colder months to come!
Anyway, back to the grindstone for now. Don't forget , we welcome queries and we LOVE to receive photos of you in your LOVE LUXE purchases for our blog! Please send in pictures of you wearing your gorgeous purchases to- Contact@loveluxe.co.uk
Ta Ta for now.
Leave a comment
Comments will be approved before showing up.