Competition and whats new for Love Luxe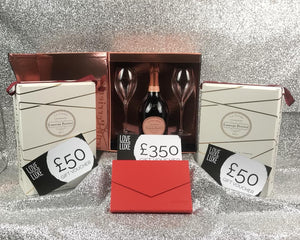 Hello, The Good And The Gorgeous!
Well, I do hope you are all suitably excited and prepared for this, because we have been prepping you for long enough! It's the thing you have all been sitting on the edge of your seats for all these long weeks, sleepless nights, daydreaming over winning a prize, when you should have been working.
( DRUM ROLL PLEASE)
We are happy and proud to unveil to you, our new and dazzlingly brilliant , much improved LOVE LUXE website.
(THUNDEROUS APPLAUSE AT THIS POINT)
So, this week I am to once again, convey to you, constant reader and loyal customer, our very huge thanks for being with us on this exciting journey.
She started small and all alone, in a corner of her bloke's office space with nothing more than a knackered pair of Louboutins as inspiration (her own , and as I have mentioned before, it takes a lot to wear those badboys out) and a discarded laptop…
And it has taken a lot of grit and determination and some really brave moves for our girl, Charlotte to " Grow the Business" as they say. Anyone who read about her on one of the news websites knows her story, and I can tell you, she deserves this success because she's been working since she was fourteen!
ENOUGH with the buttering up now though. This week we finally have details for you of how to win yourselves some gorgeous prizes. And I'm not talking about a box of chocolates and a bottle of Lambrini…
1st PRIZE
A LOVE LUXE voucher worth £350, to spend however you like, if you want goods worth more than the voucher, you can add the rest if you choose ( if you're thinking what's the catch, THERE ISNT ONE!)
AND
An overnight spa break for two lucky people with treatments at any Champneys Spa, worth £475.
Meals included ( if you're thinking where's the catch, I just told you, THERE ISNT ONE!)
AND
A bottle of Laurent Perrier Rose Champagne and pair of Champagne flutes! See how much we love you, we even provide the flutes to go with the Champagne…
Now in MY experience, lots of people would have split this up and made three prizes out of it, but not us, not here and definitely not now. We want to share our success with you and give you a full fat prize, not a watered down version of what could have been!
This is us and this is how we are.
And then, there will be 2 runner up prizes of a LOVE LUXE VOUCHER FOR £50, ( which again, can be used in conjunction with other forms of payment if you see a little something that costs a bit more.)
AND a bottle of Laurent Perrier Champagne.
So if you are not yet excited, check your pulse would you? Right, now how to win. And believe me, it doesn't get much easier…
SHARE AND LIKE THE COMPETITION POST AND IT WILL SAY, "I NEED SHOES FROM LOVE LUXE BECAUSE…"
Tell us why, the best one wins, easy as. Your answer could be amusing, heartfelt or clever but it needs a bit of thought putting into it.
The winner will get all those fabulous treats, I mean, honestly Darling, walking into one of the Champneys Spas with your loved one, whether that's your man, your Mum, your friend or your daughter or son. Overnight bag in hand, totally exquisite shoes on feet, Champagne cradled safely amongst your smalls, really, think about it…how much better can it get? How much more could we give??
Okay, I've given you the juiciest bit first so now these are the changes you need to know about with regards to our All -Singing-All-Dancing shiny new website.
You will now be able to refine our shoes by size, cutting out having to trawl through lots of shoes NOT your size. Personally, this has made me happier and so I'm sure it will do the same for you too. Seeing shoes that are too small has made me ponder Do I REALLY actually need my toes?? Could I do without them to make those dainty little shoes fit? I'm not advocating removing digits just for the sake of a baby soft calf leather heel by the way.
A new and rather fabulous feature is that we now sell GIFTCARDS , hell yeah, and in time for Christmas too!
We now have a SECTION FOR MEN. Yes, think ladies THINK! A section for men…AND giftcards surely a No-Brainer for Christmas?
And do you and your chap a favour this year, make HIS life easier by sweetly and cajolingly requesting a giftcard for yourself. Imagine it, snow falling, you there, in front of a log fire, reclining on a pile of cushions wearing a silk peignoir and eating violet creams…a knock at the door, it's the postman! He's brought your new Alexander McQueen Booties that you purchased with your LOVE LUXE GIFTCARD . Joy! Santa DOES exist and this year you managed, somehow to get off the naughty list!
Last on my list of things to tell you about is that we now have a Kids page! All the Daddies and all the Yummy Mummies with their precious and beautiful offspring, can now peruse the section that we have been asked for quite a lot. Don't forget, we learn through you what you want and what works for you. Please feel free to contact us, via Instagram with comments, ideas and enquiries.
Right, it's my bedtime now, I have my day job to go to tomorrow. I have a very good story to tell soon, title being…
MY TIME ALONE IN THE LOVE LUXE STORE.  I can tell you now, you will be green with envy!
Ta-Ta for this time,
Vanessa. xx
P.S I almost forgot to mention- We are now also giving FREE SHIPPING on ALL UK orders. Bonus!
Leave a comment
Comments will be approved before showing up.